We create your own e-shop, full of features and user-friendly.
The creation of an e-shop is an important step for your business. It provides the opportunity to operate 24/7 and approach a much bigger audience. In order for an e-shop to be successful though, it needs to be easy-to-use, functional and user-friendly. It also needs to be easy to operate. In makemysite, we provide you with a tailor-made e-shop, so that the management of your products, orders, payment options and customers becomes easy and efficient.
Our solutions ensure transaction security, many different payment and shipment options, smart filters for easy product searches and many other features that result in a pleasant and efficient browsing experience.
Even if you have no internet experience whatsoever, we will implement for you the ideal system that combines your own and your business needs. After the project's completion, we will train you in the operation of your new e-shop, so that you will be able to manage it efficiently and take advantage of all of its capabilities.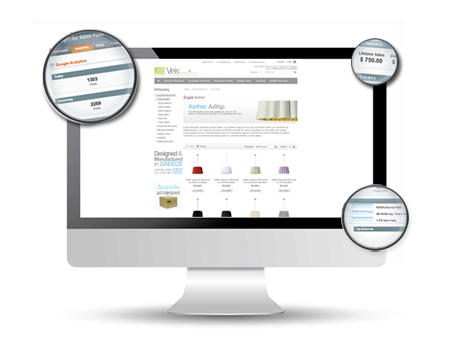 Some of your e-shop features can be:
Our solutions:
For the development of your own e-shop, we offer two basic packages, which adapt to the needs and capabilities of your business.

Business
The ideal solution for small stores. By using the latest technology and our expertise in the field of e-commerce, we develop an e-shop that will cover all of your needs. Some of its basic features are:
Unlimited number of products
Unlimited number of categories
Multiple payment/shipping options
Product search
Special promotion for some products
Control panel for product and order management
Search engine friendly
Ideal for:
Small Companies
Price: from 1890 €

Enterprise
If your store accepts a large number of visitors and orders every day, then this package is ideal for you. It includes of the features of Business as well as:
Wishlist (wishlist)
Relevant products
Currency choice
Multilingual support
Mobile friendly
Ideal for: Medium and large companies
Price: from 2250 €

Free consultation meeting
We offer a free consultation meeting to anybody interested in our services. This will provide you with the opportunity to discuss with us the needs of your business and ways to achieve your goals.
Let's arrange it