Our applications adapt to your needs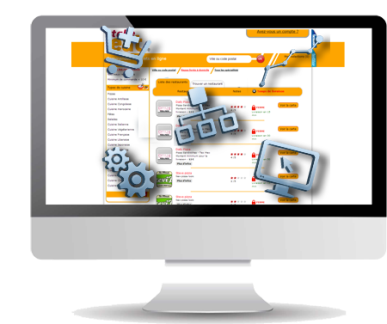 Products and services of businesses are different and the same goes for their needs. Different structure, organization, strategy and audience. You may be wondering: "How am I going to adjust technology to my own needs?"
In makemysite we understand that every business is different, so every solution we recommend has to be adjusted to specific needs. We will propose appropriate solutions for staff management, daily operations, communication with customers and decision-making and then we will guide and train you to use them to make the most of technology in your everyday work.
Makemysite's custom applications aim to cover the special needs of your business. By using the latest technology and tested solutions we provide applications with an elegant and functional interface, that run without problems and are adaptable to new future requirements.

Business Custom Applications
We develop the following applications for businesses:
Online reservation systems (Hotels – Car Rentals – Tickets – Restaurants, etc)
Online shopping systems
Ad management systems
Calculations systems
Deal and Coupon applications (like Groupon, Deals, etc)
Events registration systems
CRM/ERP
I'm interested
Custom Application development process
In order to achieve maximum quality for our services, we follow the necessary steps to ensure you have the solution that suits you.
Understanding needs and analysis
We discuss with you your needs and requirements. We understand your business sector and then analyze this information to recommend the most appropriate solution that meets your needs directly.
Proposal of a suitable solution and evaluation
After analyzing all the information we have from you, we arrive at a recommended solution. We describe the operation of the application in detail and talk with you, to make it even more effective.
Implementation
The application is now ready for use. It has been tested by us and you, to eliminate any problems.
Support and feedback
We don't want our co-operation to end there. We are interested in the proper use and updating of your custom application. That's why we offer application support, constant communication and guidance.

Free consultation meeting
We offer a free consultation meeting to anybody interested in our services. This will provide you with the opportunity to discuss with us the needs of your business and ways to achieve your goals.
Let's arrange it