Your company profile on the Internet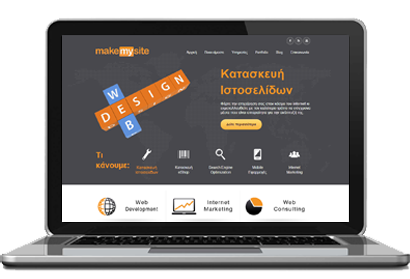 Before answering the question of "why a company needs a website", think about the following: "Why should you open a store or an office for your business?" The answer is: "Because you want your business to exist". The website is the electronic existence of your business on the internet. Any business without a website is cut off from the millions of online users.
Even if your business is small, it's not a matter of size. It doesn't matter if you are one-man business or a huge multi-national corporation. Promotion through the Internet is the most productive, totally controllable, measurable and cheap way to win over the ideal target group.
What would you think if you wanted to visit the website of a company and that didn't even exist? A website is a testament to your company's reliability and prestige, while at the same time projecting a contemporary professional profile, that's necessary for every business.
How exactly will a company website help you:
Company promotion
Your presence on the web makes your business more accessible to your clients, since they can find any info they need for your products and services, see samples of your work and contact you at all times.
Sales increase
Your website functions as a first impression of your business, that is available for any customer, without time and geographical restrictions.
Direct communication with your audience
Through your website you can easily offer information about your products, services and offers, since you are effectively opening a direct channel of communication with your audience.
Easy content management
Update the content of your website, promote your company's news and insert any new information easily and efficiently. The makemysite team will offer training in website management and direct support.
Indicative features and rates for the solutions we offer:
Dynamic

From940€

Business

From1290€

Number of Pages
έως 20
Unlimited
Number of Pages
All
All
Content Management
Yes
Yes
Number of Imeges
up to 100
Unlimited
Number of e-mail accounts
up to 10
up to 20
Contact Form
Yes
Yes
Mobile Layout
250 €
Yes
Embedded Google Map
Yes
Yes
Visitor Statistics
Yes
Yes
SEO friendly
Yes
Yes
Domain Name
–
2 years
Hosting
1 year
1 year
Maintenance
1 year
1 year
Languages
70 €
Yes*
Newsletter subscription
70 €
Yes
Search content
Yes
Yes
Forum
300 €
300 €
Blog
Yes
Yes
Administration Training
Yes
Yes

Portfolio

I want it

I want it

Free consultation meeting
We offer a free consultation meeting to anybody interested in our services. This will provide you with the opportunity to discuss with us the needs of your business and ways to achieve your goals.
Let's arrange it