Advertise to the right people at the right time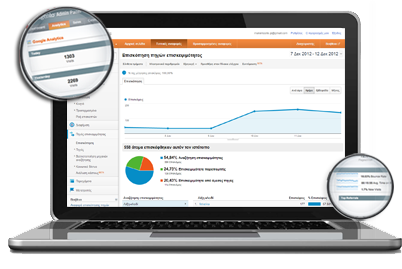 Pay-Per-Click advertising (also known as PPC) is the creation, monitoring and optimization of an ad campaign of your company in various search engines (Google, Bing, Yahoo, etc). Since Google is by far the most commonly used search engine, we use the advertising platform of the American company, which is known as Google Adwords.
A Google Adwords campaign may be targeted according to the audience it wants to reach and you pay a corresponding fee only when someone clicks your ad. You may specify the time and day that you want to advertise your business.
When somebody is searching on Google, with a keyword relevant to the subject of your website, your ad appears on the right or at the top of the search results page with the word "Advertisement".
Why use a Google Adwords campaign?
By using a Google Adwords campaign the right way, you may soon increase the reputation and customer base of your company. With a well-structured Pay-Per-Click campaign, traffic to your website is dramatically increased and new visits are targeted to people that look for your products and services, since you choose the phrases and keywords you want to promote.
More specifically, with a Google Adwords Campaign you may achieve:
improvement to your company image
more effective advertising of your company products to the Internet
sales increase for your products
measurable results with detailed traffic data
brand awareness
Steps to effectively implementing your advertising campaign:
Conducting a market survey to identify the environment in which we will set up the campaign and the presence of competing companies on the Internet.

Finding the right keywords that correspond to the style and content of the company and your services.

Scheduling of your campaign through the Google Adwords platform:

Choosing the time frame of the campaign
Choosing the appropriate verbal message
Choosing geographical zone
Setting the daily price

Statistical analysis of the campaign results to compare its effectiveness with the market average.

Free consultation meeting
We offer a free consultation meeting to anybody interested in our services. This will provide you with the opportunity to discuss with us the needs of your business and ways to achieve your goals.
Let's arrange it